When it comes to the practicality and appearance of a bathroom, the size of the shower is one of the most important factors to consider. Standard shower sizes provide a fundamental framework for the design and construction of bathrooms, allowing a variety of alternatives to accommodate a wide range of locations and individual tastes.
It is crucial to be familiar with standard shower sizes when designing a new bathroom or remodeling an existing one. This will allow you to create a comfortable and aesthetically pleasing space for bathing.
In this investigation, we will go into the world of standard shower dimensions and proportions, talking about the most popular sizes and the ramifications those sizes have for the design, functionality, and accessibility of your shower area. The knowledge of conventional shower sizes will direct you toward building a bathroom area that is harmonious and accommodating. This is true regardless of whether you want a quaint corner shower or a magnificent spa-like retreat.
Walk-in Shower Dimensions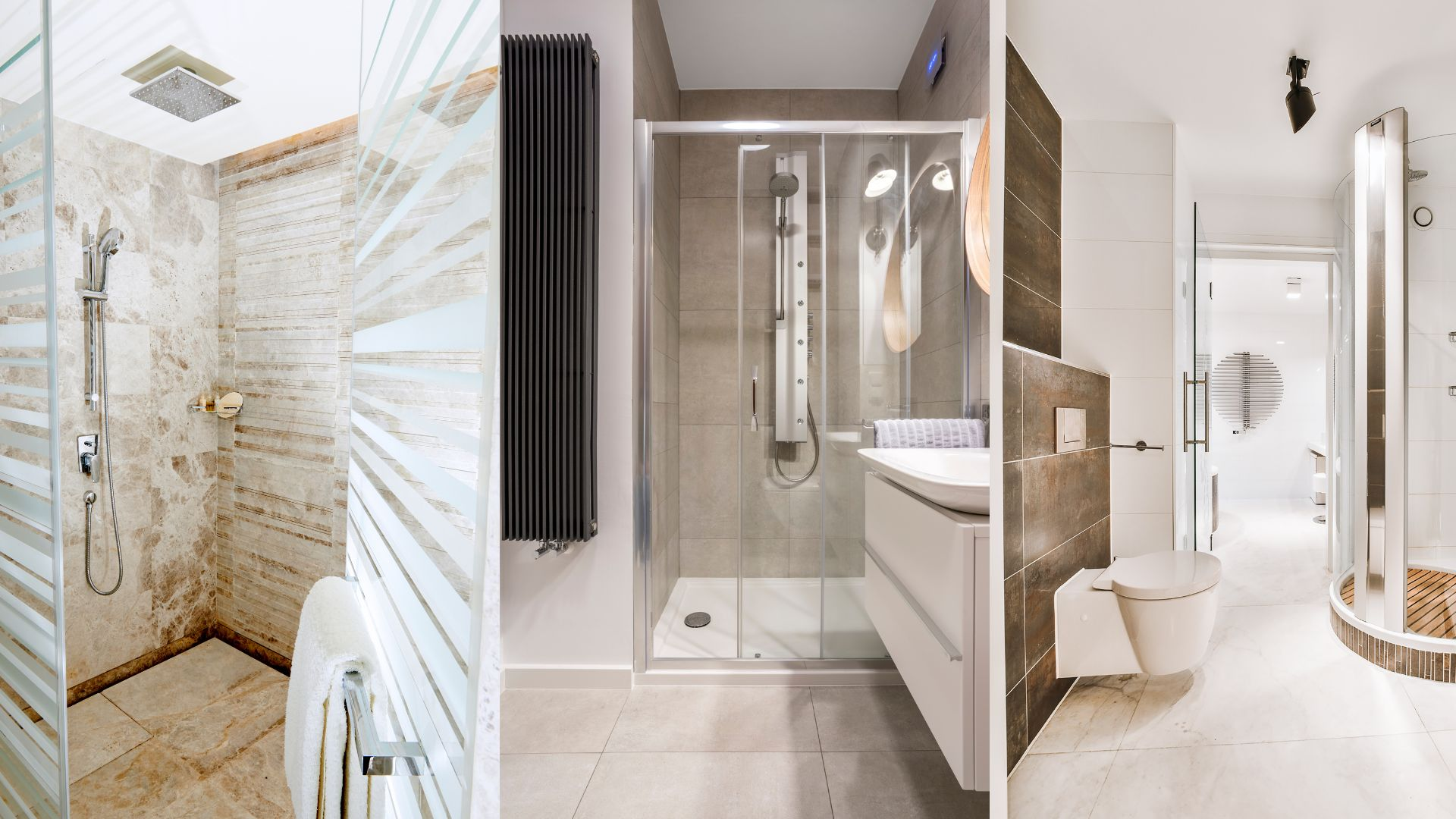 Walk-in showers, known for their open and expansive appearance, have dimensions that may be customized to different bathroom sizes and individual tastes. Walk-in shower dimensions typically range from 3 feet by 3 feet (0.91 meters by 0.91 meters) to 5 feet by 5 feet (1.52 meters by 1.52 meters).
This size range provides the flexibility to accommodate both small and large bathrooms. A walk-in shower's depth, which stretches from the entry to the back wall, is typically 3 to 4 feet (0.91 to 1.22 meters), providing adequate space for comfortable showering. Furthermore, walk-in showers have a low or zero barrier, allowing for simple access and departure without needing a step. This feature not only improves accessibility but also helps to create a smooth, modern appearance.
Stand-up Shower Dimensions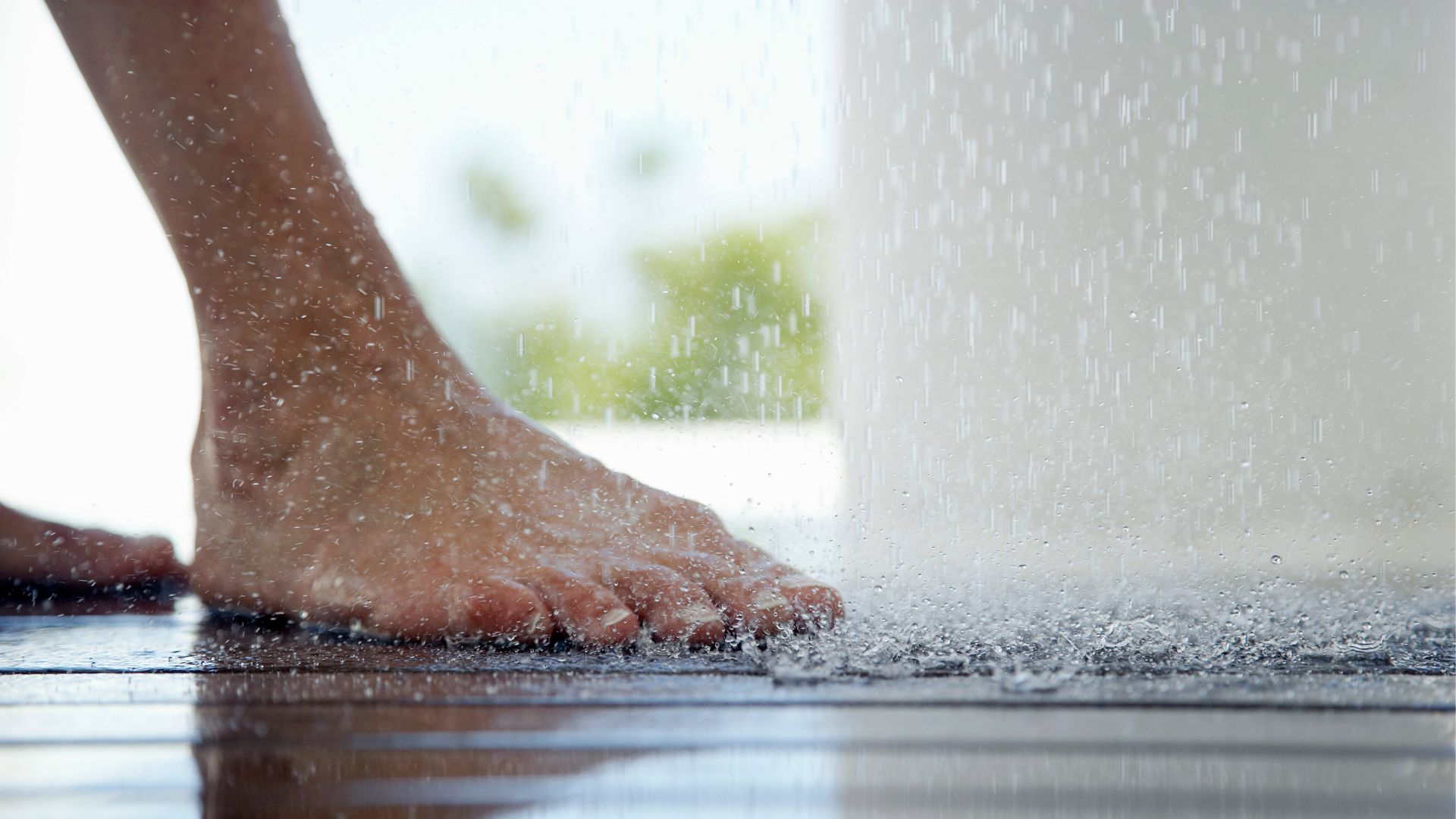 Stand-up showers, also called stall showers, are a good option for bathrooms with limited space or for people who want a quick and easy way to bathe. Most of the time, these showers are smaller than walk-in or corner showers, usually more oversized. Stand-up showers are generally 32 to 36 inches (81 to 91 centimeters) wide and 32 to 36 inches (81 to 91 centimeters) deep.
The average height of a stand-alone shower is about 78 inches (198 cm). With these measurements, a single person can take a comfortable shower while maximizing the space in the bathtub.
Shower/tub Combo Dimensions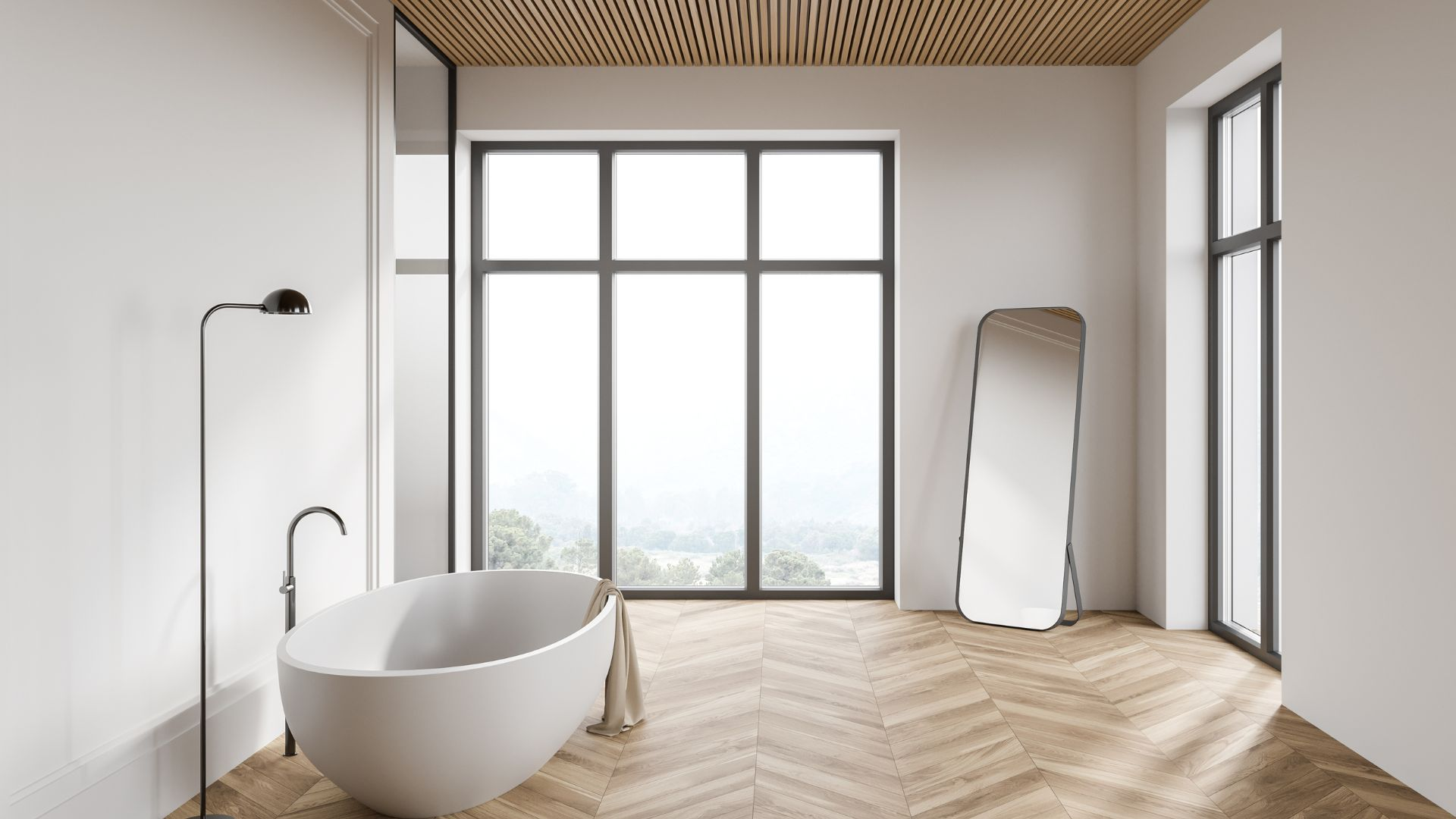 Shower/tub combos are multipurpose bathroom fixtures that combine shower and bathtub functions. These fixtures fit diverse bathroom layouts and preferences with different sizes. Shower/tub combos are typically 60 inches (152 centimeters) long, 30 to 32 inches (76 to 81 centimeters) wide, and 72 inches (183 centimeters) tall. This site makes bathing comfortable and relaxing while meeting showering and bathing needs.
Most adults can sit and bathe comfortably in a 30-inch (76-centimeter) tub steam shower. The tub usually is 60 inches (152 cm) long, enough for a full-body bath. The height of the rain varies depending on how the unit keeps water contained during showering. While these are conventional dimensions, changes, and bespoke choices are available to satisfy individual requirements and space limits. Shower/tub combos are popular for family bathrooms since they accommodate both bathing preferences and save space in small spaces.
What is the Smallest Shower Size?
A compact stall shower, about 32 inches (81 centimeters) across x 36 inches wide and 32 inches (81 centimeters) deep, is usually the smallest, standard shower size used in a home bathroom. These simple showers are made to be as valuable as possible, so they are often put in bathrooms with limited space, like powder rooms or small guest baths.
Even though they have enough space to take a basic shower, they are small and may only be suitable for people who prefer to shower in a more open room. Even though they are small, they can still be made more comfortable and valuable with features like adjustable showerheads and storage solutions that make the most of the small area.
Standard Shower Base Sizes
Shower bases, often called shower pans or trays, exist in conventional sizes for different bathroom layouts:
32×32 inches: Small square for corner showers or small bathrooms.
36×36 inches: More area from another square.
Alcove or corner showers often use 48×32 inches.
60×32 inches: Longer rectangular alcove or built-in shower size.
60×36 inches: A broader rectangular choice for larger showers.
72×36 inches: Large rectangular size for walk-in or opulent showers.
You can also purchase custom shower-only installation and sizes. Consider your bathroom space, layout, and special features like seats or accessibility when choosing a shower base. The appearance and functionality of your shower depend on your choice of shower unit.
Standard Shower Door Sizes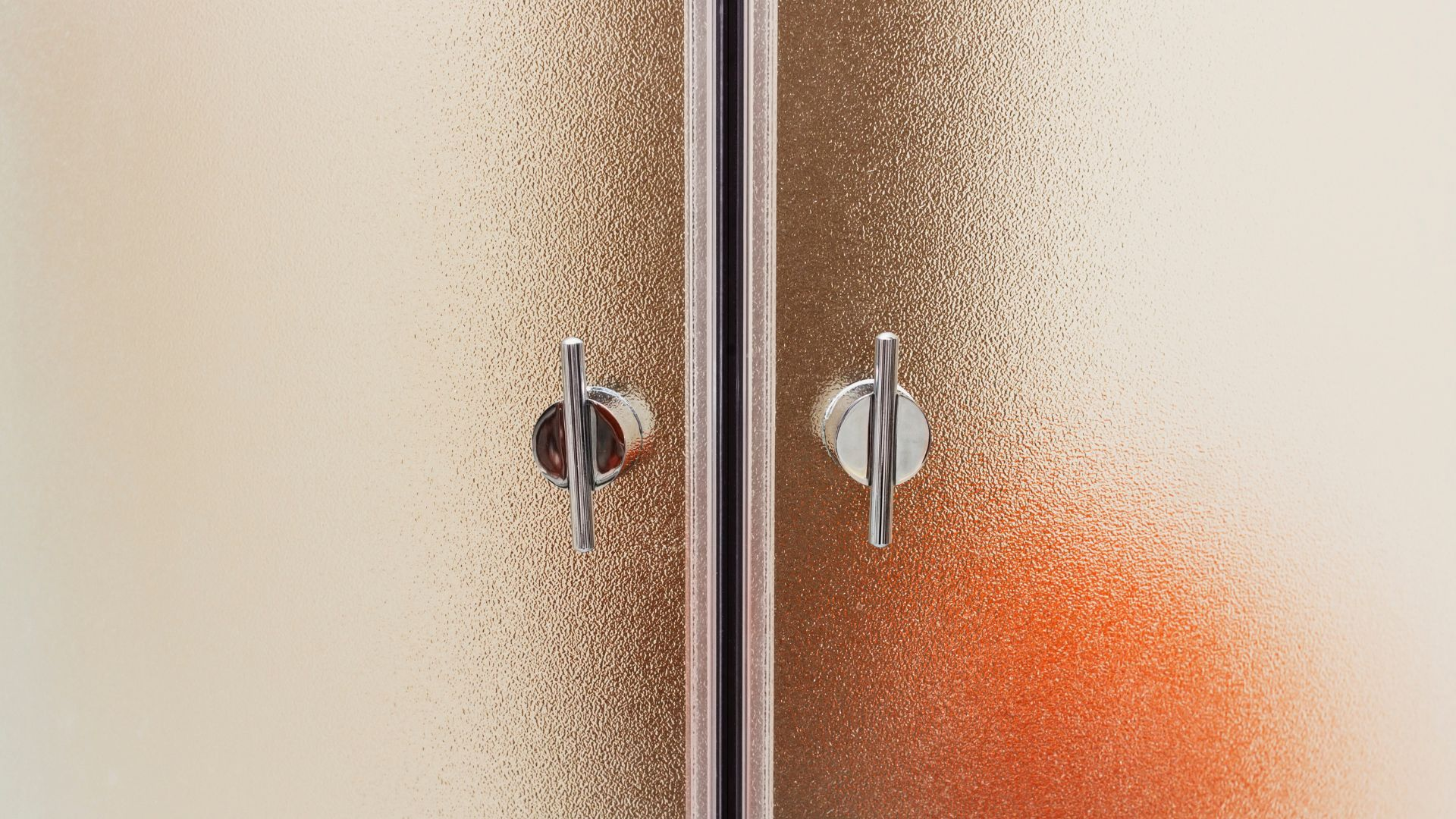 Different shower enclosures have various standard sizes for standard sections of shower doors. Some common sizes for different types of shower doors are:
Bypass Shower Doors are between 48 and 60 inches wide and 70 to 72 inches high.
Pivot Shower Doors are between 24 and 36 inches wide and 72 inches tall.
Frameless Shower Doors are between 24 and 36 inches wide and 72 inches tall.
Bifold Shower Doors are between 30 and 36 inches wide and 72 inches tall.
Neo-Angle Shower Doors are between 36 and 48 inches wide and 70 to 72 inches tall.
Curved shower doors are between 32 and 36 inches wide and 72 inches tall.
Some options can be made to fit the size and style of your shower enclosure.
Shower Bench Sizes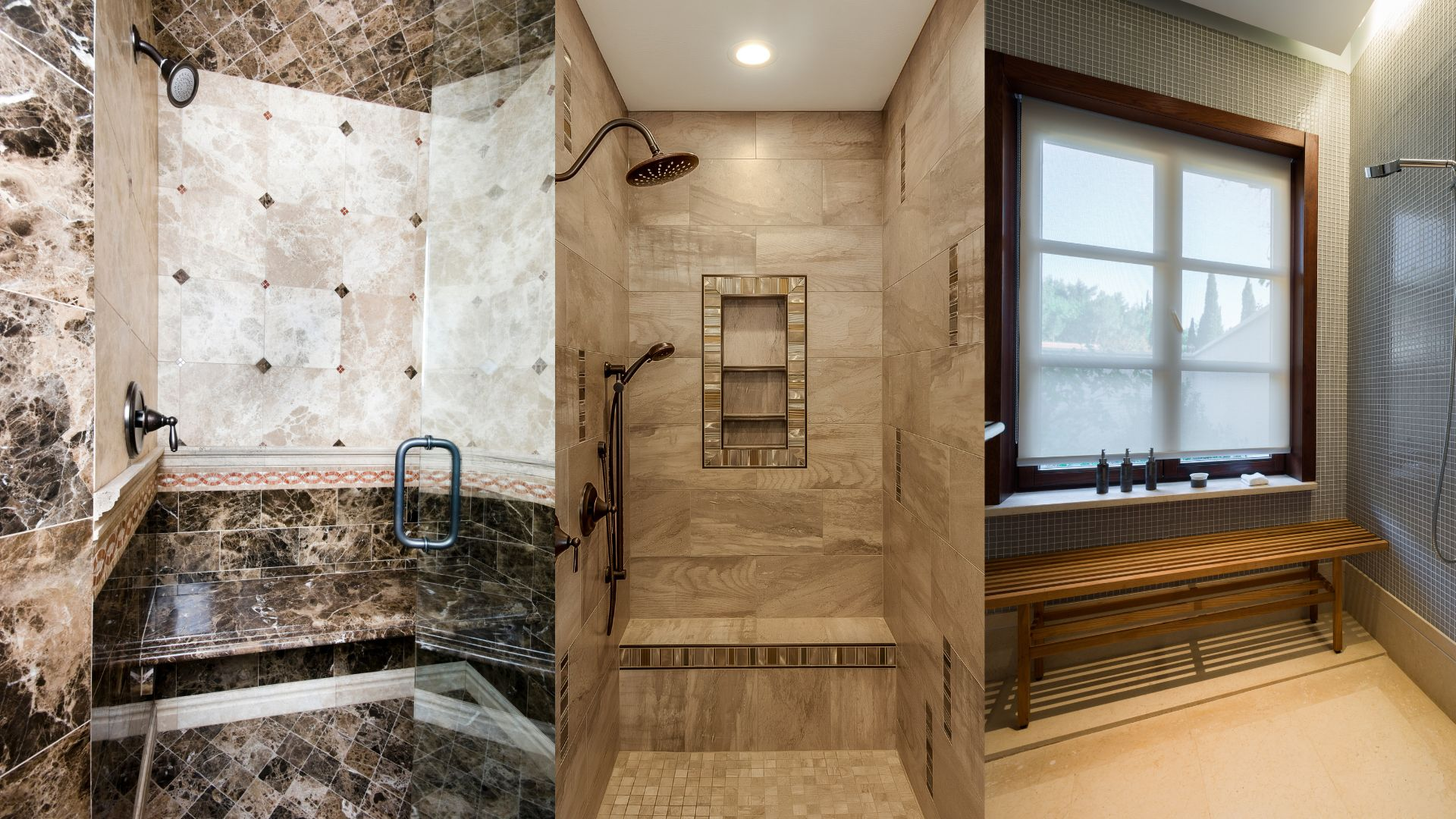 Shower benches, or chairs, exist in various sizes to fit shower installations and user demands for shower installation. Sizes include:
Compact Bench: 15-18 inches broad and 12-18 inches deep for smaller showers or minimalistic tastes.
Standard Bench: 18-24 inches wide and 12-18 inches deep, great for more extensive showers and extra seats.
Corner Bench: Fits shower corners with 18-24-inch sides at a right angle.
Extended Bench: Ideal for large walk-in showers or numerous users at 36 inches or more.
Fold-Down Bench: These 18-24-inch seats fold up to fit in compact showers.
Teak or Wooden Bench: These benches, made of water-resistant teak, are 18-24 inches broad and 12-18 inches deep, bringing a natural touch to your shower.
Choose the proper size based on shower space, comfort, and bench use. Custom benches can also match your interior shower space measurements and design choices.
ADA-Compliant Shower Sizes
According to the Americans with Disabilities Act, ADA-compliant showers must meet specific size and design standards. They must have a minimum interior dimension of 36 inches by 36 inches, a clear floor space of 30 inches by 48 inches outside the shower, a threshold no higher than ½ inch, shower controls between 36 x 38 inches and 48 inches above the floor, three grab bars (one horizontal and two vertical), a shower seat 17 to 19 inches above the shower floor, and a hand-held showerhead.
These rules make sure that ADA-compliant bathrooms are accessible for people with disabilities to use and comfortable, whether they are in a public or private setting.
How Does Shower Size Impact Shower Remodel Costs?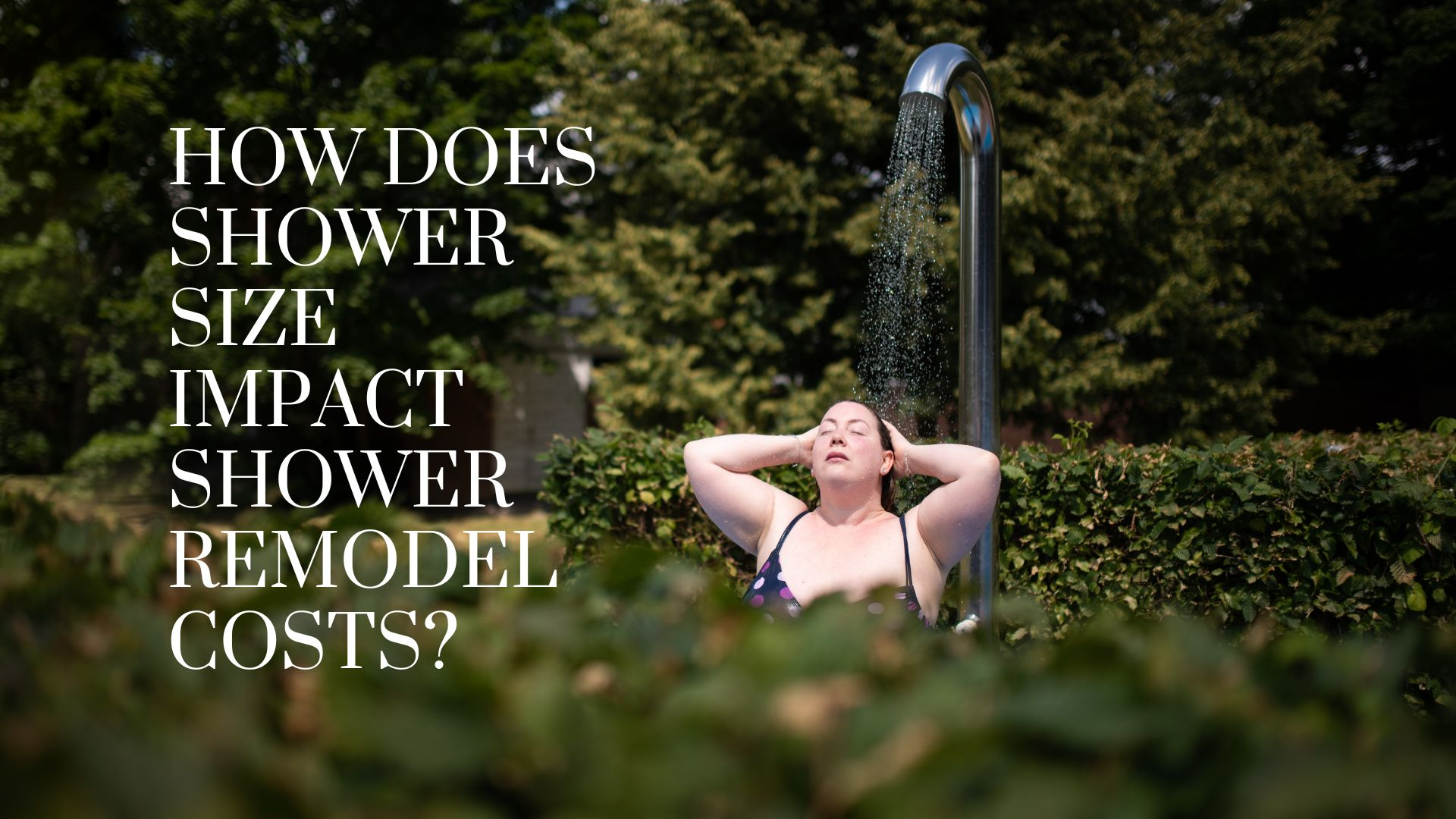 A shower remodel's cost depends on its size. More oversized showers cost more for numerous reasons. A more oversized shower requires additional tiles, glass, and fixtures, which cost more. The new shower and space size increase installation labor costs due to greater tiling, plumbing, and electrical work. Prices rise due to waterproofing materials and labor.
More extensive showers require more complicated designs and adaptations, increasing material and labor expenses. These considerations raise the cost of upgrading more extensive showers.
Alternatively, smaller showers are cheaper. For budget-conscious remodelers, custom showers, with their lower material requirements, simplified installation, and shorter labor time, make them a good choice. When well-designed, smaller showers can be elegant and functional, although space and layout may be limited.
Thus, while planning a shower remodel, you must balance your budget, design preferences, and space to achieve the desired result without overspending.
Wrap Up On Shower Sizes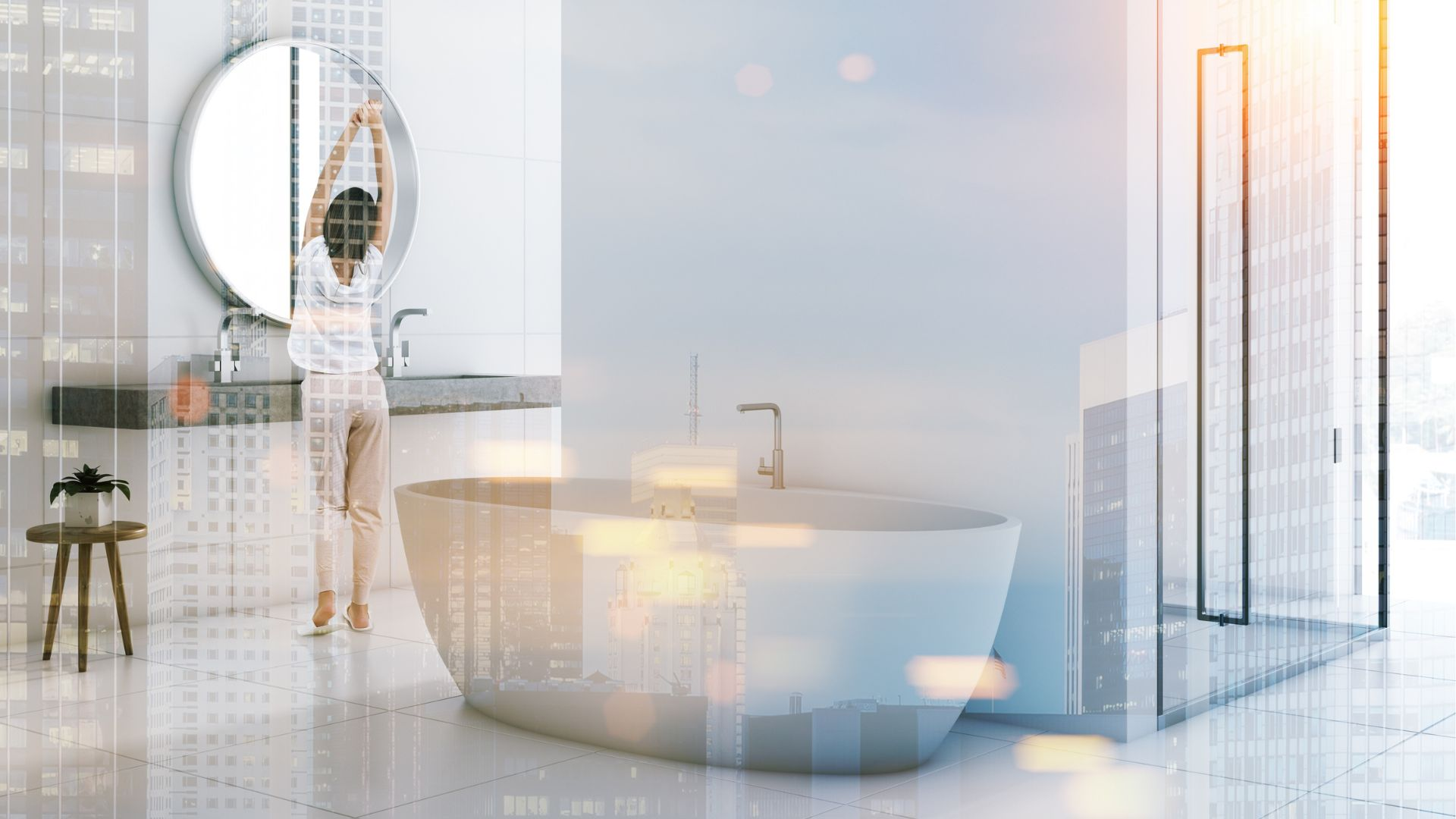 The shower's size is an important factor that has a big effect on both how well it works and how much it costs to update a bathroom. Even though bigger bathrooms are nice because they give you more space and a more luxurious experience, they usually cost more to build and install because they need more tiles, fixtures, and customizations. On the other hand, smaller showers may be cheaper but less flexible in terms of space and style.
When picking out a shower size for your shower installation project, you should carefully consider the room you have, your budget, and the look and functionality of the existing shower unit you want. This way, you can ensure that your remodel meets your practical needs and tastes.
FAQ
What are standard shower sizes?
In the United States, standard shower sizes range from 32 inches by 32 inches (81 centimeters by 81 centimeters) to 60 inches by 36 inches (152 centimeters by 91 centimeters). However, shower sizes can differ depending on where you live and your bathroom setup.
What is the size of a shower in CM?
Inches and centimeters are often used to measure the size of a full shower curtain. Most sizes, like 32 inches by 32 inches, are about 81 centimeters by 81.
What is a comfortable shower room size?
The right size for a shower room depends on your tastes and the space you have. But for most people, a reasonable shower size is at least 36 inches by 36 inches (91 centimeters by 91 centimeters). This size makes it easy to move around and makes bathing more enjoyable.
Is a 3 by 4 shower too small?
Some might think that a 3 by 4 shower, which is about 91 centimeters by 122 centimeters, is too small for a wet room. It might work, but it gives you less room to move around or feel comfortable as more significant showers. Depending on your tastes and available space, a 3 by 4 shower may or may not work for you.
Latest posts by David Coleman
(see all)